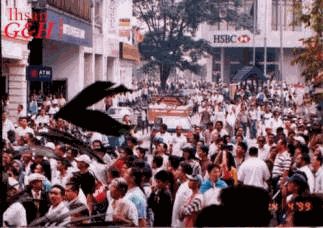 Confronting the riot squad
All the institutions of democracy had been abused and degraded to drag down one man including the Police Force, the Attorney-General's Office, the Chief Justice of Malaysia, the Judiciary and most of all, the mass media. Through all this sordid rape of democracy, only the opposition's voice could be heard crying plaintively against the wind while Ministers and senior politicians in the ruling party kept silent or joined in the attack. If only one leader had broken rank and resigned, if only one of them had spoken out against the inhuman treatment of Anwar Ibrahim and the flawed trial, we might have known there is a little decency left in the political rulers. But it was clear that Mahathir had achieved a uniform level of subservience and sycophancy among his underlings who were all too eager to cling onto their positions of wealth and power to raise a voice.

From the pain and the turmoil of a divided country, a new political party was born.